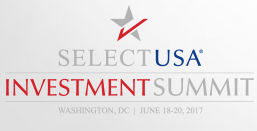 13 Dec

Select USA Investment Summit
Meet the ICA team at Select USA Summit 2017
Investment Consulting Associates (ICA) is a global management advisory firm based in Boston, USA and headquartered in Amsterdam, The Netherlands. Our services include:
Location Strategies
Supply Chain Optimization
Incentive Strategies
Real Estate Optimization
Economic Development
Investment Promotion
Incentive Policy Design
FDI Advisory
Corporate Profiling
Marketing Strategies
Free Zone & Foreign-Trade Zone Advisory
Implementation & Management Support
Our knowledge of markets, of talent pools, infrastructure, governments, regulations, and our networks allow us to give our clients expert analysis and advice on where and how to grow and expand their business operations.
What opportunities do different US states offer and how can you benefit from these when entering the US market?
To learn more about how we can support your organization meet Christopher Steele, COO and Zoë Harries, Director Business Development & Marketing at the summit.
To set up a meeting, simply respond to this email or visit us at our booth, number 550. We look forward to meeting you!
Ms. Zoë van den Berghe
Director Marketing & Business Development ICA
Email: zoe@ic-associates.com
Mobile: +31 615 499 998 (NL)